About Us
Imperial Dragon is a Chinese takeaway in Derbyshire. Why don't you try our Shrimp Chop Suey or King Prawn in Fresh Garlic Chilli Sauce?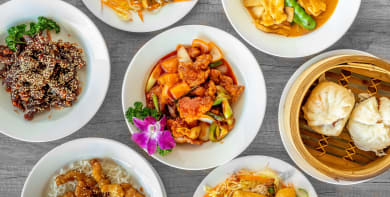 Reviews
419 reviews
Gareth
"Food is always excellent from here, we have used them for years."
30/04/2021
Lesley
"Excellent Food and excellent service"
25/04/2021
Roz
"Collection... overall all good, happy to order from there again"
24/04/2021
Ashley
"Nice food. A tad liberal on the chili. However, on the upside, my bathroom and I were very well acquainted by the end of the evening."
21/04/2021
Menu
Roast Pork in Honey Sauce
£5.80
Crispy King Prawn in Honey Sauce
£6.30
Crispy Chicken in Honey Sauce
£5.80
Fu Jian Chow Mein
Include: Chicken, Beef, Roast Pork, King Prawn & Duck with Vegetable on a base of Chow Mein
£7.10
Fu Jian Fried Rice
Include: Chicken, Beef, Roast Pork, King Prawn & Duck with Vegetable on a base of Fried Rice
£7.10
Japanese Chicken Katsu
Served with Chicken Rolls x2 & Prawn Toast x2
£8.50
Meal for 1 Person
Sweet & Sour Chicken Balls (4)
Chicken Chop Suey
Small Egg Fried Rice
£9.90
Meal for 2 People
Prawn Crackers
Pancake Rolls (2)
Sweet & Sour King Prawn Balls (6)
Beef with Mushroom
Chicken Chop Suey
Large Egg Fried Rice
£21.50
Meal for 1 People
Crispy Seaweed
Vegetarian Chicken in Black Bean Sauce
Beansprouts Chow Mein
£10.50
Meal for 4 People
Large Containers
Sesame Prawn Toast (4)
Spare Ribs in Barbecue Sauce
Sweet & Sour King Prawn Balls (12)
Char Sui Chop Suey
Beef in Oyster Sauce
Chicken with Pineapple
2 Large Egg Fried Rice
Prawn Crackers & a Bottle of Coke
£40.80
Meal for 2 People Thai Set Dinners
Tom Yum King Prawn Soup
Crispy Duck Rolls (4)
Thai Red Chicken Curry
Crispy Shredded Beef in Thai Sweet Chilli Sauce
Thai Chilli Fried Rice (Large)
Fortune Cookies
£25.50
Char Sui (Roast Pork) Foo Yung
£5.70
Imperial Dragon Spicy Chow Mein (Dry) - Large
Hot
£6.80
Imperial Dragon Spicy Fried Rice (Dry) - Large
Hot
£6.80
Imperial Dragon Spicy Udon (Dry) - Large
Includes: Chicken, Beef, Roast Pork & King Prawn
Hot
£6.80
Chicken in Yellow Bean Sauce with Cashew Nuts
Contains:
Nuts
£5.70
Thai Chilli Chicken Fried Rice
Hot
£5.80
Thai Chilli Fried Rice
Hot
£4.10
Thai Chilli King Prawn Fried Rice
Hot
£6.10
Thai Chilli Roast Duck Fried Rice
Hot
£6.10
Thai Chilli Roast Pork Fried Rice
Hot
£5.50
Lamb Chop in Barbecue Sauce
£6.40
Lamb Chop in Salt & Pepper
Hot
£6.40
Spare Ribs in Barbeque Sauce
£6.20
Spare Ribs in Cantonese Sauce
£6.20
Spare Ribs in Hot Chilli Sauce
Hot
£6.20
Spare Ribs in Salt & Pepper
Hot
£6.20
Spare Ribs in Sweet & Sour Sauce
£6.20
Salt & Pepper Mock Chicken
Hot
£6.20
Thai Red Beancurd (Tofu) Curry
Hot
£6.20
Thai Red Chicken Curry
Hot
£6.20
Thai Red King Prawn Curry
Hot
£6.50
Thai Red Mock Chicken Curry
Hot
£6.20
Thai Red Roast Duck Curry
Hot
£6.50
Sirloin Steak
With Mushrooms, Onion, Peas and Tomato in Oyster Sauce
£11.90
Sirloin Steak in Black Pepper Sauce
With Mushrooms, Onion, Peas and Tomato in Black Pepper Sauce
£11.90
Mushroom Omelette
Vegetarian
£5.80
Plain Omelette
Vegetarian
£5.80
Quarter Roast Chicken in Gravy
Breast
£5.60
Duck in Black Pepper Sauce
£6.30
Duck with Black Bean & Garlic Sauce
£6.30
Crispy Chicken in Cantonese Sauce
£5.60
Crispy Chicken in Hot Chilli Sauce
Hot
£5.60
Crispy Chicken in Lemon Sauce
£5.60
Crispy Chicken in Salt & Pepper
Hot
£5.60
Chicken in Black Bean & Garlic Sauce
£5.60
Chicken in Black Pepper Sauce
£5.60
Chicken in Cantonese Sauce
£5.60
Chicken with Cashew Nuts
Contains:
Nuts
£5.70
Chicken with Ginger & Spring Onion
£5.60
Chicken with Mushrooms in Black Bean & Garlic
Chicken with Mushrooms in Black Bean & Garlic Sauce
£5.60
Kung Po Chicken with Cashew Nuts
Hot
Contains:
Nuts
£5.70
Special Mushroom in Black Pepper Sauce - Large
£6.80
Crispy Beef Cantonese Sauce
£5.60
Crispy Beef in Hot Chilli Sauce
Hot
£5.60
Beef in Black Bean & Garlic Sauce
£5.60
Beef in Black Pepper Sauce
£5.60
Beef with Cashew Nuts
Contains:
Nuts
£5.90
Beef with Ginger & Spring Onion
£5.60
Beef with Mushrooms in Black Bean & Garlic Sauce
£5.60
Kung Po Beef with Cashew Nuts
Hot
Contains:
Nuts
£5.90
Special Mushroom in Black Bean Sauce - Large
£7.00
Crispy Shredded Beef with Salt & Pepper
Hot
£5.90
Char-Sui Chop Suey
Chinese Roast Pork
£5.60
Special Chop Suey - Large
£6.00
Crabmeat & Sweetcorn Soup
£3.10
Sweetcorn Soup
Vegetarian
£3.10
Thai Tom Yum Soup
Choice with Chicken, King Prawn or Vegetables
£3.90
Mushroom Noodle Soup
Vegetarian
£3.10
Onion Rings (6)
Vegetarian
£3.40
Crispy Seaweed
Contains:
Nuts
£3.10
Sesame Prawn Toast (1 Slice)
Contains:
Nuts
£3.40
Mini Vegetarian Spring Rolls (8)
Vegetarian
£3.10
Curry Vegetarian Spring Rolls (4)
Vegetarian
£4.20
Thai Style King Prawn Rolls (4)
£4.70
Crispy Pork Wan Tons (6)
With sweet chilli dip
£3.10
Deep Fried Crab Claws (6)
With sweet chilli dip
£4.70
Assorted Platter
Includes: Ribs, Sesame Prawn Toast, Mini Vegetarian Spring Rolls, Crispy Pork Wan Tons and Prawn Crackers
Contains:
Nuts
£6.40
Special Mixed Platter
Includes: Ribs x2, Sesame Prawn on Toast x2, Crispy Chicken Wings x2, Curry Vegetarian Spring Rolls x2 & Seaweed
£7.40
Salt & Pepper Special
Includes: Spare Ribs x2, Chicken Wings x2, Chicken Balls x2, Onion Rings x2, Mini Spring Rolls x4, Chicken & Chips
£9.90
Aromatic Crispy Duck 1/4
Includes: Pancake, Spring Onion, Cucumber & Hoisin Sauce
£8.80
Aromatic Crispy Duck 1/2
Includes: Pancake, Spring Onion, Cucumber & Hoisin Sauce
£17.20
Aromatic Crispy Lamb
Includes: Pancake, Spring Onion, Cucumber & Hoisin Sauce
£8.80
Chicken Wings in Salt & Pepper (8)
£5.40
Chicken Wings in Cantonese Sauce (8)
£5.40
Skewers Beef
With Satay or Curry Sauce
£5.40
Skewers Chicken
With Satay or Curry Sauce
£5.40
Skewers Mock Chicken
With Satay or Curry Sauce
£5.40
Grilled Chicken Dumplings (4)
£4.20
Grilled Pork Dumplings (4)
£4.20
Crispy Shredded Chicken with Salt & Pepper
£5.60
Crispy Chicken in Thai Sweet Chilli Sauce
Hot
£5.80
Crispy Shredded Chicken in Thai Sweet Chilli
Crispy Shredded Chicken in Thai Sweet Chilli Sauce
Hot
£5.80
Crispy King Prawn in Thai Sweet Chilli Sauce
Hot
£6.00
Crispy Shredded Beef in Thai Sweet Chilli Sauce
Hot
£5.80
Beancurd (Tofu) in Thai Sweet Chilli Sauce
Hot
£5.80
Spare Ribs in Thai Sweet Chilli Sauce
Hot
£6.00
Mock Chicken in Thai Sweet Chilli Sauce
Hot
£5.80
Satay Sauce Small
Contains:
Nuts
£2.30
Thai Red Curry Sauce Small
£2.30
Sweet Chilli Dip (Cold) Small
£2.30
3 in 1
Egg Fried Rice, Chips & Our Sauce listed Below all in One Tray. With Yeung Chow Fried Rice £1.00 Extra
£4.40
Chips in Salt & Pepper
Hot
£4.40
Chips with Chicken in Salt & Pepper
Hot
£6.10
Banana Fritter with Syrup
£2.80
Pineapple Fritter with Syrup
£2.80
4 in 1
Soft Noodles, Egg Fried Rice, Chips & Curry all in One Tray
£5.80
Thai Red Curry Sauce Large
£3.10
Satay Sauce Large
Contains:
Nuts
£3.10
Sweet Chilli Dip (Cold) Large
£3.10
Bottle of Drinks Diet Coke
£2.50
Roast Duck in Fresh Garlic Chilli Sauce
Hot
£6.30
Roast Pork in Fresh Garlic Chilli Sauce
Hot
£6.00
King Prawn in Fresh Garlic Chilli Sauce
Hot
£6.30
Chicken in Fresh Garlic Chilli Sauce
Hot
£5.60
Beef in Fresh Garlic Chilli Sauce
Hot
£5.60
Beancurd (Tofu) in Fresh Garlic Chilli Sauce
Hot
£5.60
Garlic Special - Large
Chicken, Beef, King Prawn & Char Siu
Hot
£6.80
Special Szechuan - Large
Chicken, Beef, King Prawn & Char Siu
Hot
£6.80
Squid in Salt & Pepper
Hot
£6.10
Shelled Mussels in Black Bean & Garlic Sauce
£6.10
Shelled Mussels in Black Pepper Sauce
£6.10
Crispy Cod Fillet in Salt & Pepper
Hot
£6.10
Cod Fillet in Black Bean & Garlic Sauce
£6.10
Cod Fillet in Satay Sauce
£6.10
Kung Po King Prawns with Cashew Nuts
Hot
Contains:
Nuts
£6.10
King Prawns with Mushrooms
£6.10
King Prawns in Black Bean & Garlic Sauce
£6.10
King Prawns in Black Pepper Sauce
£6.10
King Prawns in Cantonese Sauce
£6.10
King Prawns with Broccoli
£6.10
King Prawns with Cashew Nut
Contains:
Nuts
£6.10
King Prawns with Ginger & Spring Onion
£6.10
King Prawns with Mushrooms in Black Bean Garlic
King Prawns with Mushrooms in Black Bean Garlic Sauce
£6.10
Crispy King Prawns in Hot Chilli Sauce
Hot
£6.10
Crispy King Prawn in Salt & Pepper
Hot
£6.10
Cantonese Meal for 1 Person
Sesame Prawn Toast (1)
Crispy Chicken in Lemon Sauce
Small Yung Chow Fried Rice
£10.50
Cantonese Meal for 2 People
Prawn Crackers
Aromatic Crispy Duck (Quarter)
Sweet & Sour  Chicken Hong Kong Style
Beef in Black Bean & Garlic Sauce
Large Yung Chow Fried Rice
£24.50
Cantonese Meal for 3 People
Large Containers
Mini Vegetarian Spring Rolls (12)
Spare Ribs in Sweet & Sour Sauce
Crispy Chicken in Lemon Sauce
Beef in Satay Sauce (Contains: Nuts)
King Prawn with Straw Mushrooms and Baby Sweetcorn
1 Large & 1 Small Yung Chow Fried Rice
Prawn Crackers & a Bottle of Coke
£36.50
Cantonese Meal For 4 People
Large Containers
Sesame Prawn Toast (4)
Mini Vegetarian Spring Rolls (8)
Sweet & Sour Chicken Hong Kong Style
Beef in Cantonese Sauce
King Prawn in Satay Sauce (Contains: Nuts)
Duck in Black Bean & Garlic Sauce
2 Large Yung Chow Fried Rice
Prawn Crackers & a Bottle of Coke
£41.50
Malaysian Style Chow Mein
Roast Pork, Chicken, Beef, King Prawn & Mixed Vegetables
£6.40
Mushroom Chow Mein
Vegetarian
£5.40
Mixed Vegetables Chow Mein
Vegetarian
£5.40
Shredded Chicken Chow Mein with Sauce
Green Pepper in Black Bean Sauce or Oyster Sauce
£6.10
Beef Chow Mein with Sauce
Green Pepper in Black Bean Sauce or Oyster Sauce
£6.10
Roast Duck Chow Mein with Sauce - Large
Green Pepper in Black Bean Sauce or Oyster Sauce
£6.30
King Prawn Chow Mein with Sauce
Green Pepper in Black Bean Sauce or Oyster Sauce
£6.30
Singapore Chow Mein
Hot
Contains:
Nuts
£5.80
Singapore Rice Noodles
Hot
Contains:
Nuts
£5.80
Special Chow Mein with Sauce
Roast Pork, Chicken, Beef, King Prawn & Mixed Vegs in Oyster Sauce
£6.40
Char Sui (Roast Pork) Chow Mein
£5.60
Imperial Chow Mein
King Prawns, Chicken, Beef & Mixed Vegs in Black Bean & Garlic Sauce
Hot
£6.40
Vegetarian Singapore Chow Mein
Hot
Vegetarian
Contains:
Nuts
£5.40
Vegetarian Singapore Rice Noodles
Hot
Vegetarian
Contains:
Nuts
£5.40
Vegetarian Singapore Fried Rice
Hot
Contains:
Nuts
£5.40
Yung Chow Fried Rice (Dry)
Roast Pork, Chicken, Prawns & Peas
£5.60
Imperial Rice
With Boiled Rice
King Prawns, Chicken, Beef & Mixed Vegs in Black Bean & Garlic Sauce
Hot
£6.40
Happy Family
King Prawns, Chicken, Roast Pork, Beef and Mixed Vegetables in Oyster & Garlic Sauce with Boiled Rice
£6.40
Char Sui (Roast Pork) & Roast Duck Cantonese Style
Char Sui (Roast Pork) & Roast Duck Cantonese Style Rice
Roast Pork and Duck laced with Soy Sauce & Syrup & Boiled Rice
£6.40
Char Sui (Roast Pork) Fried Rice
£5.60
Mixed Vegetable Fried Rice
Vegetarian
£5.40
Malaysian Style Fried Rice
Roast Pork, Chicken, Beef, King Prawn & Mixed Vegetables
£6.40
Mushroom Fried Rice
Vegetarian
£5.40
Singapore Fried Rice
Hot
Contains:
Nuts
£5.80
Special Fried Rice with Sauce
Roast Pork, Chicken, Beef, King Prawn & Mixed Vegs in Oyster Sauce
£6.40
Special Satay
Chicken, Beef, Pork & King Prawns
Large
Contains:
Nuts
£6.30
Duck Satay
Contains:
Nuts
£6.30
King Prawn Satay
Contains:
Nuts
£6.30
Chicken Satay
Contains:
Nuts
£5.60
Beef Satay
Contains:
Nuts
£5.60
Crispy King Prawn in Satay Sauce
Contains:
Nuts
£6.30
Crispy Chicken in Satay Sauce
Contains:
Nuts
£5.60
Crispy Beef in Satay Sauce
Contains:
Nuts
£5.60
Mock Chicken in Satay Sauce
Contains:
Nuts
£5.60
Mixed Vegetables in Black Bean & Garlic Sauce
£5.40
Mixed Vegetables in Oyster Sauce
£5.40
Mixed Vegetables with Cashew Nuts
£5.60
Kung Po Mixed Vegetables with Cashew Nuts
Hot
£5.40
Sweet & Sour Mixed Vegetables
£5.40
Mushroom with Black Bean Sauce
£3.80
Mushroom with Black Pepper Sauce
£3.80
Kung Po Beancurd (Tofu) with Cashew Nuts
£5.60
Sweet & Sour Beancurd (Tofu)
£5.60
Szechuan Beancurd (Tofu)
Hot
£5.60
Beancurd (Tofu) Chop Suey
£5.60
Beancurd (Tofu) in Black Bean & Garlic Sauce
£5.60
Beancurd (Tofu) in Salt & Pepper
Hot
£5.60
Beancurd (Tofu) in Satay Sauce
£5.60
Beancurd (Tofu) with Chinese Mushrooms
£5.80
Sweet & Sour Mock Chicken
£5.50
Sweet & Sour Pork Balls (10)
£5.90
Sweet & Sour Pork Hong Kong Style
£5.60
Sweet & Sour Chicken Balls (10)
£5.90
Sweet & Sour Chicken Hong Kong Style
£5.60
Sweet & Sour Crispy Beef Hong Kong Style
£5.60
Sweet & Sour King Prawn Balls (10)
£6.30
Sweet & Sour King Prawn Hong Kong Style
£6.10
Sweet & Sour Special Balls (10)
King Prawn, Chicken & Pork Balls
£6.30
Sweet & Sour Special Hong Kong Style
King Prawn, Chicken & Pork
£6.30
Salt & Pepper Special Balls
Hot
£6.80
Salt & Pepper Chicken Balls
Hot
£6.20
Singapore Style Curry - Large
Roast Pork, Crispy Chicken and King Prawn
Hot
£7.60
Special Curry - Large
Chicken, Beef and Shrimps
£7.40
Mixed Vegetables Curry Small
£5.80
Char-Sui (Roast Pork) Curry Small
£6.40
Char-Sui (Roast Pork) Curry Large
£7.40
Mixed Vegetables Curry Large
£6.80
Contact Us
Find Us
2A Shardlow Road, Alvaston, Derbyshire, DE240JH
We deliver to
DE21, DE23, DE24, DE72, DE73